Eastern "Lowdown" 20" Complete Bike - Blue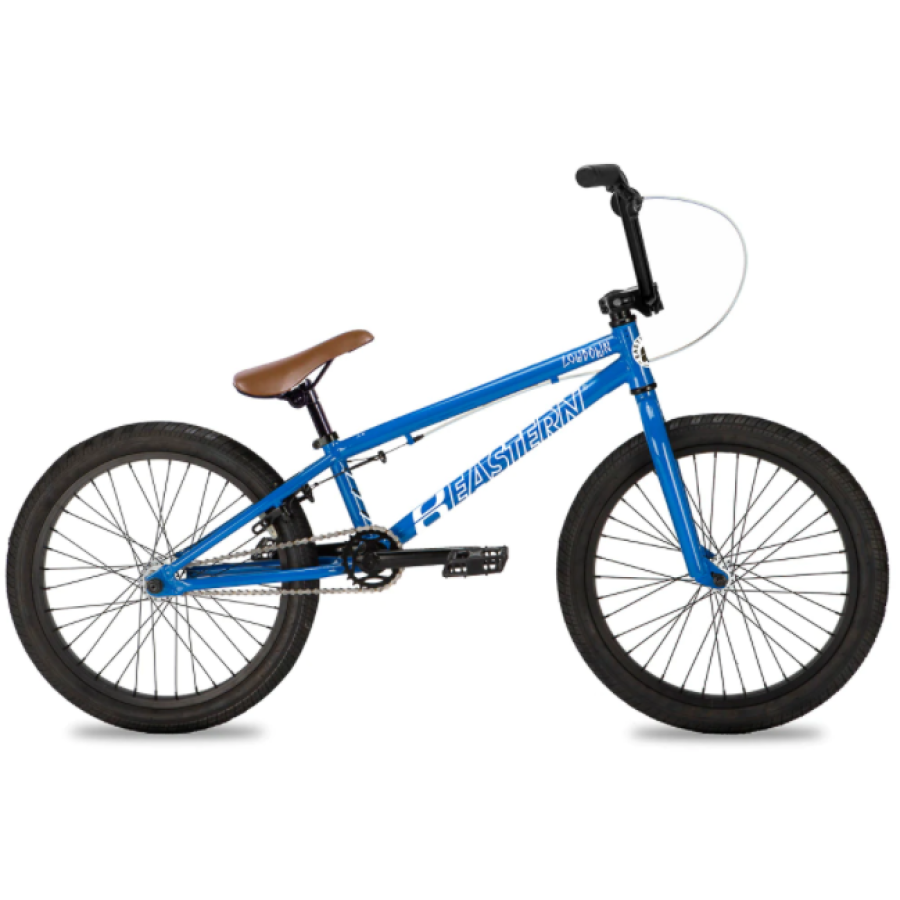 Designed for the beginner level rider, the Lowdown 20" BMX Bike is a perfect introduction to BMX. Tubular chromoly 3 piece cranks and sealed hubs now come standard on current models. Crafted from tough hi-tensile steel with some dialed Eastern aftermarket grips, pedals, and sprocket give this beginner bike an expert look.
26.9 Lbs
Now with 3pc Tubular Chromoly Cranks
Sealed Front & Rear Hubs
Handlebar Pad
Hi-Tensile Steel Frame
Hi-Tensile Steel Fork and Bars
Eastern Riblet Grips
Eastern Atom Pedals
Eastern Sprocket
FRAME
Hi Tensile Steel Lowdown
Top Tube Size: 20"
BB: AM
Headtube: Aheadset
Chainstay Length: 13.38"
Clamp: Integrated with Frame
BARS
Hi-Ten 8.0"
Upsweep/Backsweep 12⁰/1⁰
FORK
Lowdown - Hi-Tensile Steel, Tapered legs, 3/8" dropouts
Fork Rake: 28mm
HEADSET Aheadset
STEM Forged Alloy Front Load Stem
GRIP Eastern Riblet Grips
CRANK 3-Piece, Tubular Heat-Treated Chromoly, Bolt for Sprocket, Pinch Bolt with 8-Splined Spindle, 165mm 28.6mm Round Arm
BOTTOM BRACKET American Ball Bearing
CHAINWHEEL Eastern Phorcys, Cold Hard Steel, 25T
CHAIN KMC Z410 1/2 x 1/8
PEDAL Eastern Atom Plastic Pedal with 9/16 Chromoly Axle
REAR BRAKE U-Brake, Forged Alloy
REAR LEVER Forged Alloy Lever
BRAKE CABLE [S] LINEAR
SADDLE Padded Seat with Railed Supports
POST Steel 200mm
FRONT HUB Sealed Bearings, Forged Alloy Shell, Drilled for 36 Spokes, 3/8" Chromoly Axle
REAR HUB Sealed Bearings, Forged Alloy Shell Drilled for 36 Spokes, 14mm Chromoly Axle 9 Tooth Driver
FREEWHEEL 9 Tooth Driver with Hub
FRONT RIM Alloy, Single Wall, Drilled for 36 Spokes (20")
REAR RIM Alloy, Single Wall, Drilled for 36 Spokes (20")
SPOKES 14 Gauge with Brass Nipples
FRONT TIRE 20 x 2.25
REAR TIRE 20 x 2.25
PEG none